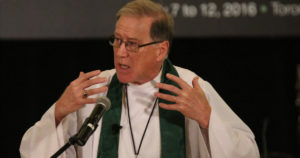 It goes without saying that Hiltz, along with other church dignitaries, is spluttering his indignation about the U.S. recognising Jerusalem as Israel's capital. Most importantly, it's because he hates Trump and all he stands for with a loathing as intense as his fawning love for Justin Trudeau, Canada's pretty boy, a bleached version of Barack Obama. There is no hatred quite so caustic as that of a liberal Anglican clergyman encountering opposition laced with disagreement that's less than good .
Archbishop Fred Hiltz, primate of the Anglican Church of Canada, is calling for prayers for Jerusalem after U.S. President Donald Trump's decision December 6 to recognize the city as the capital of Israel and move the U.S. embassy there from Tel Aviv.
Hiltz, as Anglican Primate floats, as usual, blissfully above the demands that facts and reality impose on mere mortals. Thus, he declares that Trump has acted unilaterally, in spite of the fact that the U.S. congress voted to recognise Jerusalem as capital 22 years ago. Trump has done what every other president for the last 22 years has been putting off. This is very unAnglican: Anglicans have endless conversations when something comes up that they dislike.
Hiltz is also condemning Trump's "unilateral action," saying it has set off violence in the Holy Land.
Significantly, none of the clergy gnashing their collective teeth over this are interested in whether it is the right thing to do or not. Rather, they are motivated by pious pragmatism: will the recognition incite the usual lunatic elements to violence? After all, the Middle East has hitherto been so peaceful.
In a statement released Friday, December 8, Hiltz said he was joining a number of voices expressing "serious concerns" about Trump's declaration. He cited a letter jointly issued by 13 heads of Christian churches in Jerusalem, including Archbishop Suheil Dawani, primate of the Anglican Province of Jerusalem and the Middle East, voicing disapproval and worry.

"We are certain that such steps will yield increased hatred, conflict, violence and suffering in Jerusalem and the Holy Land, moving us farther from the goal of unity and deeper toward destructive division," the church leaders said in the letter, released shortly before Trump's official announcement. "We ask from you Mr. President to help us all walk towards more love and a definitive peace, which cannot be reached without Jerusalem being for all.

"The Holy City can be shared and fully enjoyed once a political process helps liberate the hearts of all people, that live within it, from the conditions of conflict and destructiveness that they are experiencing."
We have something to be thankful for in all this: politicians tend to ignore the opinions of effete clerics – just like everyone else:
But Trump, Hiltz said, chose "to ignore this wise and Godly counsel," and went ahead with his declaration. "His unilateral action has unsettled the entire Middle East and plunged Jerusalem into chaos," Hiltz continued.
Hiltz, it seems, has found a new word: "unilateral". This is the third time he has used it. Incorrectly.
In an interview with the Anglican Journal Thursday, December 7, Hiltz said he felt Trump had acted in a characteristically "unilateral" and dangerous way in making his announcement.
What we really need are more conversations. How about a Middle East Indaba?
"There's no sense of, you know, consultation, no sense of this having been a broader conversation. It's Donald Trump being Donald Trump," he said.
It gets worse: North Korea's obsession with nuclear tipped ballistic missiles is Trump's fault, too. Did I mention that Hiltz hates Trump?
"As with issues of concern on the Korean peninsula, his statements and his actions agitate, and they tend to stir things up in ways that, quite frankly, are not helpful," Hiltz said. "It's very worrisome in terms of how this could turn."

The Anglican Church of Canada—like the government of Canada—Hiltz said, supports "a lasting peace process in which there is a state of Israel, but within which Palestinians also have a rightful place."
Finally, we find out what is really bothering Hiltz – other than the fact that he is forced to live on the same planet as Trump. His free trip to Jerusalem might have to be cancelled.
Hiltz also said Trump's announcement cast some doubt on whether he would still make a planned trip to Jerusalem this January to visit the Anglican primate of Jerusalem and the Middle East.