I think Shakespeare may be missing something.
Many years ago when I was a schoolboy studying chemistry, we made some phenyl isocyanide, the worst smelling concoction I have ever encountered, and, at an opportune moment secreted an open beaker full of it in the masters' common room. I cannot honestly declare "that which we call phenyl isocyanide by any other word would smell as foul" because, for me, the words themselves are so evocative of a revolting stench that they contribute an additive smell of their own to the chemical.
An onomatopoeia has a similar effect as do other words that have a sufficient emotional charge that their use provokes a reaction that is detached from or out of proportion to their meaning. "Sodomite" is such a word: although it simply describes someone who regularly – we must allow that an isolated incident could merely be accidental misplacement – engages in a particular sex act, it seems to be intrinsically offensive.
Its offensiveness is not lost on a rather strange Australian Anglican priest called Rod Bower who, although he has redefined the word to suit his and others' contemporary liberal bias, uses it to launch an ad hominem attack against a politician with whom he disagrees. Much easier than engaging in a rational discussion.
From here:
The sin of Sodom is greatly misunderstood by those who usually choose to do so, it has nothing to do with homosexuality, it is all about hospitality, or more to the point lack there of, and particularly about the condition of the heart that leads to inhospitable behaviour.

Peter Dutton's comments today are an astonishingly vivid example of this most grievous of sins. The lies, misinformation and blatant untruths are worthy of noting [sic] less than condemnation and ridicule.

[….]

Dutton is a true Sodomite.
Here is the church sign that proves it: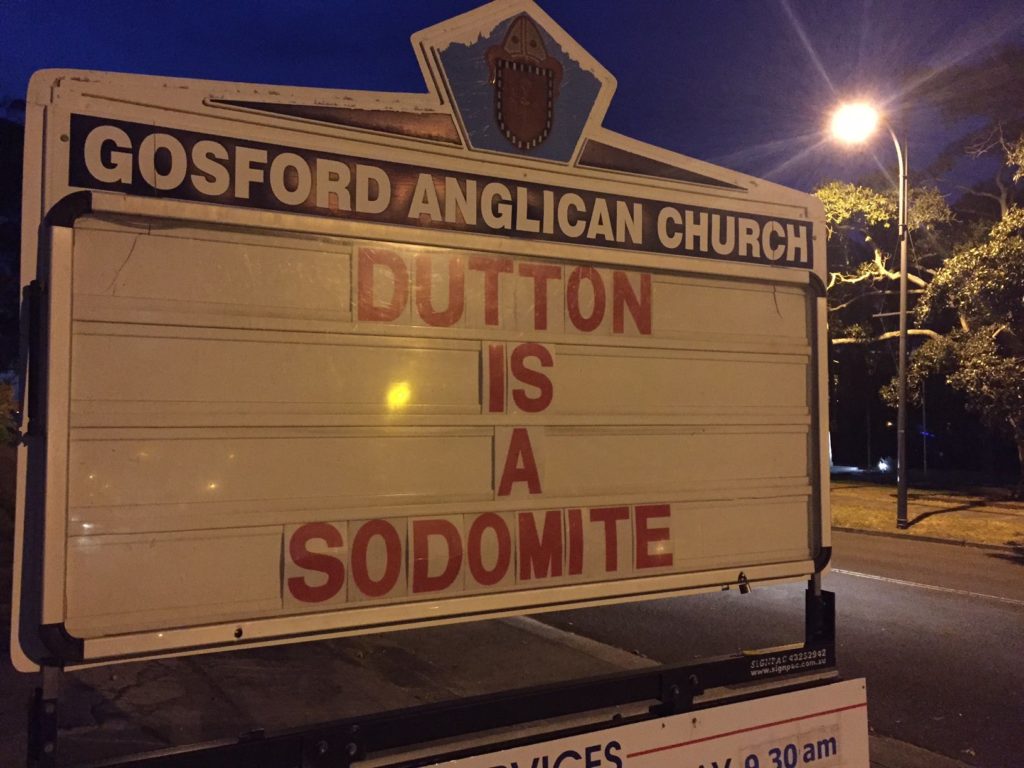 Peter Dutton is a sodomite because he is inhospitable. Insofar as most of us have exhibited some degree of inhospitality at some time or other, I suppose that makes most of us sodomites. Some are petty sodomites while the unrepentant misanthropes among us would be hardened sodomites.
Bower does not, as far as I know, house any refugees personally in his own house so he has to be, at the very least, a moderate sodomite.
We are all sodomites now.