Although the "Working Paper – Anglican Church of Canada Statistics" report is from 2010, I hadn't seen it before. The numbers only extend to 2001 and the numbers are mostly for "membership" in the ACoC and so are far higher than those actually attending church. In 2001 the number of "identifiable givers" stood at just over 200,000; this number is probably closer to the average Sunday attendance at that time. The whole report is worth a look: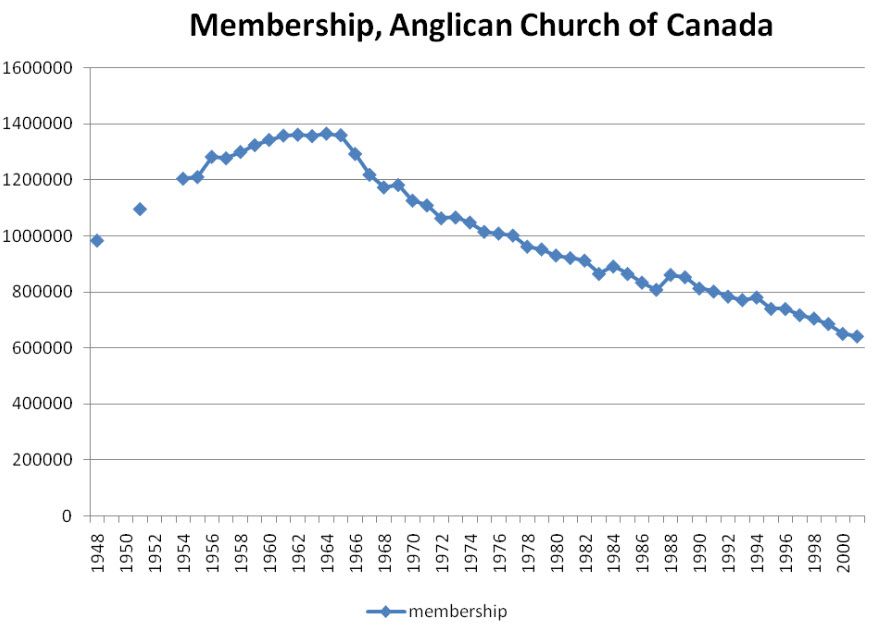 We begin our discussion by looking at the national membership of the Anglican Church of Canada after World War II. The membership of the Anglican Church (Figure 1) rose steadily in the immediate post-war period. Starting at just under 1 million members (983,779) in 1948, the earliest year after the war for which we have such figures, membership grew over the next decade and stood at 1,300,029 a decade later (1958). The rate of growth over this ten year period was very high, a remarkable 32% increase. Membership continued to grow consistently for several years after 1958, reaching 1,361,463 members in 1962. Membership then dropped slightly to 1,356,424 in 1963, but rebounded the next year in 1964 to reach a peak of 1,365,313. This was to be, though no one could have predicted this at the time, a record high, one that the Anglican Church would never come close to achieving again.

After reaching a peak in 1964, a significantly different trend emerges as membership moved into steady decline. The initial decline was notably steep. By 1968 Anglican membership had declined to 1,173,519 – a decline of almost 200,000 members in a three year period. In just three years, almost 15% of the church's membership had vanished from its rolls. There was a small rebound in 1968, as there would be at various times in later years, but the downward trend after 1964 is notable. By 1978 the Anglican church membership had not only fallen below 1 million members, it had also fallen below its membership level of thirty years previously (1948). There was a brief increase in the late 1980s, but this did not reverse the overall trend. By 2001, the last year the church reported such figures, Anglican membership had fallen to 641,845. To put this in perspective – membership was less than half of what it had been at its peak. And, of course, the overall Canadian population had been increasing in this period, with the national population increasing by just over 60% from 1961 through to 2001, that is from 18,236,247 people in 1961 to 29,639,030 in 2001.
I couldn't resist plugging the numbers from the graph above into a spreadsheet and extrapolating the decline to find the year when membership reaches zero: