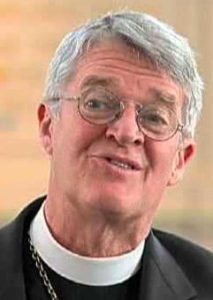 From here:
Some 125 Episcopal Church bishops signed a full-page ad that ran Sept. 21 in the New York Times, imploring President Donald Trump and member of Congress not to end the Deferred Action for Childhood Arrivals, the program known as DACA.

"To do so would endanger the lives of thousands of young people and their families and run contrary to the faith and moral traditions of our country," wrote 122 bishops, along with Presiding Bishop Michael Curry, 26th Presiding Bishop Katharine Jefferts Schori and 25th Presiding Bishop Frank T. Griswold. "It is unfair to threaten the well-being of young people who arrived in our country as children through no choice of their own."
As you can see, the compassion of Anglican bishops knows no bounds.
Very soon we can expect Episcopal cathedrals, emptied of congregants driven out for non-compliance with Doublethink, to be filled with DACA victims, potential DACA victims and pretend DACA victims. Katharine Jefferts Schori will be housing at least ten personally in her home. Michael Curry, who earns over $280,000 annually placing him squarely among the despised 1 percenters, will be donating most of it to homeless migrants and will vacate his bishop's residence to make room for ten more.
Frank Griswold has been asked to take in yet more illegal immigrants but is still working on the deeper hermeneutical meaning of the words take and in.
Remember, though, the main thing is to hate Trump with all the inclusive vitriolic loathing that this elite cadre of dog-collared oven mitt wearing geriatrics can muster. That's what it means to be a missional church.