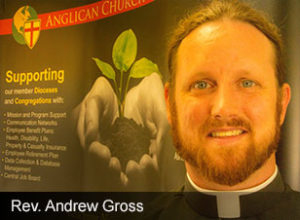 From here:
Archbishop of Canterbury Justin Welby has said that he is "taken aback" by criticism of the decision to ask the Presiding Bishop of the U.S.-based Episcopal Church to pray for the victims of the Las Vegas shooting. Curry prayed for the victims at the start of Evensong in Canterbury Cathedral, England, on Oct. 3, the first day of the Primates Meeting.

The Rev. Canon Andrew Gross, canon for communications and media relations for the Anglican Church in North America (ACNA), speaking on behalf of GAFCON, said that the decision to invite Curry to lead the congregation in prayer at the Evensong service "put the GAFCON primates in a difficult spot." He said that they were "forced to look like they are walking together when they are not walking together."
Welby's claim to be "taken aback" is either a sign of startling naivety or disingenuousness.
It would be naïve for a leader in his position to fail to understand the depth and breadth of the rift that has divided the Anglican Communion and he should not be surprised that at least one faction is unwilling to pretend, under any circumstances, that it isn't there. More plausibly, he does understand it and has seized the opportunity to score a political point against his opponents by claiming they are attempting to score a badly timed political point themselves.
On the other hand, if, as Rev. Canon Andrew Gross says, being present at Curry's prayers presents difficulties for the GAFCON Primates, why on earth, I wonder, did they attend the, let's pretend we are all getting along, Primates' Meeting in the first place?