On June the 30th, Christ Church Cathedral in Ottawa was host to an interfaith service to celebrate – using that word very loosely – Canada's 150th anniversary of confederation.
To lend legitimacy to the presence of assorted Anglican and Catholic settler bishops and a rabbi, Inuit spiritual leaders and a drum keeper were on hand.
Islamic prayers recited by a local imam punctuated the Anglican cries of self-flagellation over disrupting what passed for Indigenous culture 400 or so years ago.
It doesn't get any more Anglican than that.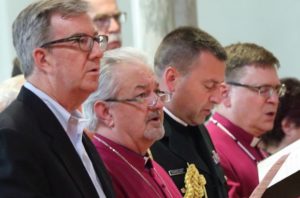 From here:
Algonquin spiritual leader Oshki Nodin (Albert Dumont) gave the opening prayer, asking the Creator to "touch the Canadians of the future with your sacredness and blessings so that Canada will become a beacon of light and an example to the other countries of the world."

Ottawa Mayor Jim Watson, in his comments to the gathering, acknowledged that Ottawa is built on unceded Algonquin territory. The Algonquin "culture and presence continue to nurture this land," he said.

Watson also thanked "all First Nations, Inuit and Métis people, their elders, and their ancestors for their valuable past and present contributions to the land and society."

Drum keeper and Algonquin Elder Barbara Dumont-Hill led the "calls to prayer" with a "life-giving" song. "All our songs were prayers," she said. "We sing prayers for everything on the land, and this song talks about the one who gives us life, and walks with us always."

Next was Imam Samy Metwally of the Ottawa Mosque who recited a prayer in Islam and translated it into English, ending with, "There is no deity worthy of worship except God."