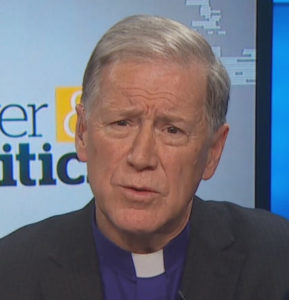 Fred Hiltz has been Primate of the Anglican Church of Canada for about ten years. During his tenure, the church has lurched into a radical heterodoxy beyond the wildest longings of the Screwtapian Principalities assigned to gently steer it into the Pit, tens of thousands of parishioners have fled, congregations have left en masse to form a new Anglican Province, conservative priests and theologians have been persecuted, driven out, inhibited and fired, and multiple scorched-earth lawsuits have been instigated by his beloved church with a studied vindictiveness that makes Attila the Hun look like Winnie the Pooh. It's been nothing but devastation and chaos.
It is little wonder that Hiltz wants to get out now before the whole putrid, corrupt moldering edifice collapses around his ears. The search for his replacement will, no doubt, concentrate on scouring the land – and overseas if necessary – for a suitable candidate in the form of a  partnered lesbian who dabbles in Buddhism in her spare time.
From here:
Now, dear friends is such a time for our beloved Church, a time for me to make plans to conclude my years of service as Primate, and time for the Church to make the arrangements necessary for the election of a new Primate.
In 2017, I marked 40 years in ordained ministry and 40 years of marriage with my dear Lynne. For 23 of those 40 years I have served our Church as a bishop, and for 10 of those 23 as Primate.
As you well know this was not an office to which I aspired. Nonetheless I have endeavoured to fulfil the duties required of me in the best interests of our Church and its commitment to God's mission in Canada and as a loyal partner in the life and witness of the worldwide Anglican Communion.

It has been an enormous privilege and a great adventure with blessings beyond number. This year on December 3rd,I will God willing reach the age of 65. I think that is probably no secret in our Church! And in the natural order of discourse around such milestones, questions arise with respect to one's intentions about retirement. I believe it is incumbent upon me to help  move us all beyond whispered speculations to clarity about my intentions.

Allow me just a few minutes to bare but a bit of my soul concerning my discernment. At some length, I have considered how much longer I should remain in office. In all honesty, there are days when I wonder if I might not be coming very close to the "best before" date in the leadership I am providing. Time and again, I have examined the scenarios for which Canon III on The Primate makes provision with respect to resignation.
I have experienced more than a few restless nights. I have tried to abide by St Paul's counsel not to be anxious but prayerful (Philippians 2:6) I have prayed and I have quietly asked a few others to uphold me in their prayers through this time of discernment. For their pledge to do so I am enormously grateful.
I confess too that out of a deep and a biding love for our Church I have in these last several months felt more than a little sense of solemn obligation to see General Synod through the next round of conversations over a few very significant matters. I think of how we begin to move beyond Vision 2019. I think of the second reading of the amendment to the Marriage Canon.