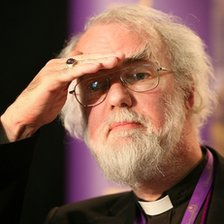 From here:
The archbishop of Canterbury, Dr Rowan Williams, is to resign and return to academia as master of Magdalene college, Cambridge.

Williams, 61, will leave at the end of December in time to start his new role next January.

His time in office has been marked by a slowly growing schism in the worldwide Anglican church, which he has failed to heal. Williams has been attacked by conservatives for his liberal views on homosexuality and by liberals for failing to live up to these principles.
It's hard to see Rowan Williams' tenure as Archbishop of Canterbury as anything other than an unmitigated disaster: from unproductive indaba groups to foolish remarks about sharia law and now to the failed Anglican Covenant it has all been confusion and chaos. The archbishop's attempts to find middle ground on the issues tearing the communion apart – similar to the middle ground that he has had to find between his personal beliefs and those his office requires of him – were doomed to failure from the start because there is no middle ground.
We can only hope that his successor has what it takes to stand up for what is right and good in Anglicanism; even if he does, I fear it may be too late to undo the damage that has been wrought over the last nine years.