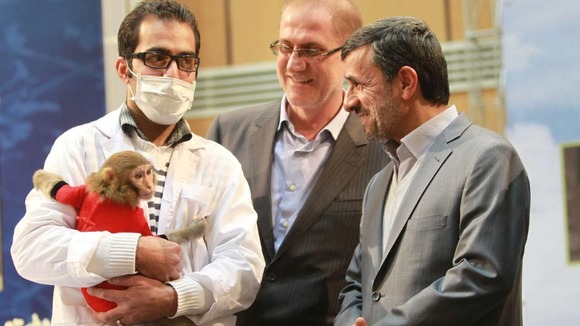 Iran, having, allegedly sent a monkey into space, is looking for its next candidate. In a sacrificial gesture, Mahmoud Ahmadinejad has offered himself as the next subject – to benefit science, his country and mankind.
As Ahmadinejad takes his place floating 72 miles aloft, he will gain the stature that hitherto has eluded him, the rest of the simian community will heave a collective sigh of relief, Iran's citizens will take to the streets rejoicing, and other Islamic leaders will have an inspiring example to emulate.
It is a win-win situation.
From here:
President Mahmoud Ahmadinejad says he is willing to be the first Iranian astronaut to be sent into space.

"I'm ready to be the first Iranian to sacrifice myself for our country's scientists," he said in an address to space scientists in Tehran, according to the official IRNA news agency.