Niagara This Week reports, in what appears to be an accidental confluence of stories, that Violet the cat, found frozen and comatose is on the road to recovery and the Diocese of Niagara's St. George's Church has also been found frozen and comatose but, unlike Violet, is beyond hope and has been put out of its misery. Or words to that effect.
St. George's, which has 225 years of history behind it, has been deemed unsustainable by diocesan viability enforcers and has been deconsecrated. Bishop Michael Bird was on hand to point out to the "aging membership" that the occasion, although "sombre", was also a cause for "celebration" because the church, although now as dead as a doornail, had had a long innings. I expect that was a great comfort.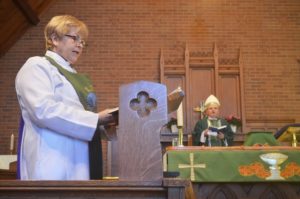 From here:
NIAGARA-ON-THE-LAKE — With heavy hearts but cherished memories, the congregation that worshipped at a church in former village of Homer came together for the final time on Sunday.

St. George's Anglican Church, which has a history dating back more than 225 years, held its final service. As with so many other small congregations, a dwindling and aging membership forced what for many was a painful decision to disestablish and return the deconsecrated church building to common usage.

The service was presided over by Diocese of Niagara Bishop Michael Bird, who acknowledged the sombre mood in the room but said this was also a time to celebrate a congregation with a long life. He implored everyone to think of how long it has been a home, a sanctuary and a place to come to know God, a place that has served as a backdrop to countless baptisms and weddings.

"Just imagine all the prayers that have been offered here, both spoken and silent," he said.

Rev. Dorothy Hewlett, who also serves at Christ Church at Lakeshore and McNab roads, said the decision to close was a long time coming and was the right one to make.