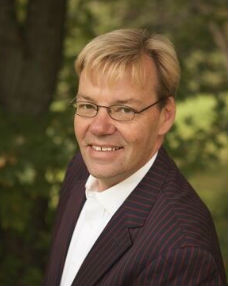 Noel Edison is the choir director at the Diocese of Niagara's St. John the Evangelist church in Elora:
Under Noel Edison, its conductor for the past twenty years, the choir leads the congregation in Choral Mattins twice monthly, in the occasional Evensong and in the Choral Eucharist on other Sundays.
I should have said "was the choir director", because Edison was relieved of his position after allegations of sexual misconduct came to light. St. John's website still has him listed in the position, but a local paper has this to say:
ELORA — One of the few professional church choirs in the country is facing a pressing question — what happens now that their star conductor is gone?

That's the dilemma facing the parish choir at St. John the Evangelist Church in Elora, after the departure of longtime music director Noel Edison amid sexual misconduct allegations.

[…..]

Edison has also voluntarily stepped down from his role as the music director at St. John's, a role he's had since the 1980s.
There is more here, here, here, and here.
As often seems to be the case with this type of allegation, there are claims that Edison's sexual indiscretions were not a particularly well kept secret: everyone knew but no one said anything:
I find a lot of the comments from choristers and TMC/EFS disingenuous. EVERYONE knows that, at best, he has been ethically and sexually inappropriate for years. At worst, criminal. His house parties are famous. Comparing notes about "inappropriate Noel moments" is something many southwestern/GTA singers do. He is a likeable man and a great conductor, but that doesn't make him a saint.
Interestingly, the newly elected bishop in the Diocese of Niagara, Rev, Susan Bell,  sang in the Elora choir during the period that Edison was philandering. Did she know and not tell? After all, the #MeToo movement was not the cultural hit it is today and the diocese, keenly sensitive to the caprice of the zeitgeist, might have been blissfully indifferent to Edison's sexual antics; why should its paid choristers be any different?
The Reverend Canon Susan Jennifer Anne Bell:
In addition to academic work, another area of interest is in vocal performance. After studying for two years in England – in London and then Oxford, on my return I was a professional member of the parish choir at St. John's Elora for 2 and a half years from 1992-94 before proceeding to theological college in Toronto.