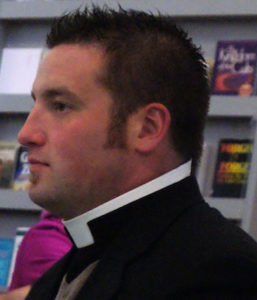 Noah Njegovan, son of Brandon's Bishop Jim Njegovan, was sentenced today for stealing around $200,000 from the diocese. Njegovan won't be going to jail.
The judge noted that "People no longer want to give them [the diocese] money because people no longer believe they are capable of managing their money." Every cloud has a silver lining.
From here:
A Brandon judge has handed down a 22-month conditional sentence to a Manitoba priest who admitted to using a church credit card for almost $200,000 in private purchases.

Noah Njegovan was charged in 2015 with theft over $5,000 and fraud over $5,000. He pleaded guilty to the theft charge at Brandon Court of Queen's Bench in December, while the fraud charge was stayed.

At the time of the offence, Njegovan was an archdeacon with the Anglican Diocese of Brandon and was in charge of finances and bookkeeping for the diocese. Court documents say he had access to the church's credit card and online bank accounts.

"$192,000 from a church," Justice John Menzies said in sentencing Njegovan Tuesday, taking a long pause. "An organization that preaches trust and giving the benefit of the doubt … pays for that.

"This is a horrible, horrible offence," he added, calling Njegovan's actions a huge breach of trust.