Katharine Jefferts-Schori has been selected by Time Magazine as One of the Women Changing the World. Hillary Clinton is also in the list.
I can't find much fault with Time's choice since Schori has the distinction of suing more congregations than any other bishop in history, male, female or transgender – a category I've always suspected might apply to Schori – and Clinton, that of losing of an unlosable election.
No mention is made of whether the world is better or worse as a result of the labouring of these ladies and, in the interests of even handedness, Time has chosen one of each: Katharine, worse through suing and Hillary better through losing.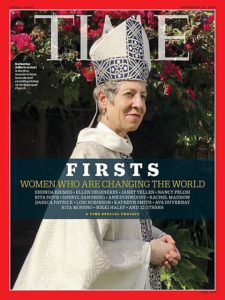 From here:
Time includes Katharine Jefferts Schori in series on women changing the world

Time magazine's new multimedia project, Firsts: Women Who Are Changing the World, features the Rt. Rev. Katharine Jefferts Schori, 26th presiding bishop, as one of 46 profiled women.

Jefferts Schori was the bishop of Nevada when she was elected in June 2006. She was installed as presiding bishop in November of that year. Her term ended in November 2015 when current Presiding Bishop Michael Curry succeeded her.

She is now serving as assisting bishop in the Diocese of San Diego while that diocese discerns who to call as its next bishop.

The Time project, which debuted Sept. 7, uses the metaphor of the glass ceiling. "What a jagged image we use for women who achieve greatly, defining accomplishment in terms of the barrier rather than the triumph. There she is up where the air is thin, where men still outnumber women, but where the altitude is awesome," the introduction says. "Our goal with Firsts is for every woman and girl to find someone whose presence in the highest reaches of success says to her that it is safe to climb, come on up, the view is spectacular."