About 35 years ago, someone discovered that the foundations of the Diocese of Niagara's Christ Church Cathedral were crumbling. Now, of course, the Christian foundation of the entire diocese has crumbled, leaving the building standing in apparent defiance of the spiritual ruin in which it finds itself.
The reason the physical building has survived is, in part, thanks to a friend of mine, now deceased, who owned a construction company which specialised in pumping a certain type of grout into rickety structures to reinforce them. The company was called Groundation; my friend had a particular liking for the hymn "How Firm a Foundation" and was always tickled when we sang it.
The diocese contracted Groundation to fix the cathedral's foundations. Many years later, after the diocese sued St. Hilda's, our building was demolished and the cathedral was still standing, I used to joke with my friend that he had done too good a job.
The church, like the rest of life, is replete with irony. Thirty years after propping up the tottering cathedral, the Diocese of Niagara has realised that, like many other Anglican dioceses, it no longer has the money to maintain its buildings. It is selling cathedral land, piecemeal, to raise cash: the rear parking lot will be the first to go.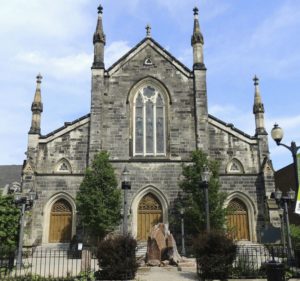 From here:
Christ's Church Cathedral on James Street North wants to partner with a developer on a multimillion-dollar plan for residential, community and commercial space in its back parking lot.

Aside from the cathedral and All Saints, the Anglican diocese is exploring partnerships with developers in Niagara, Guelph and Halton, says Rev. Bill Mous, a director with the diocese.