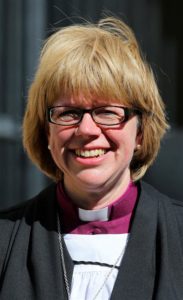 Church of England synods, in keeping with their North American counterparts whom they seem increasingly determined to emulate, seldom tire of justifying their decisions by rubber stamping them with the approval of the "Spirit". It is only fitting, then, that, with all this attention given to the "Spirit", the CofE has discovered one of His (or should that be Her?) hitherto unknown Charisms, buried under centuries of ecclesiastical rubble, finally to be unearthed, dusted off and appropriated by every right thinking cleric north of the equator.
What is it? It is the gift of Reality Evasion.
If you are wondering how it operates in practice, you need look no further than the fine example set by the new Bishop of London, Sarah Mullally, among the first of what will probably be a long line of crusading Lady Bishops about to invade and feminise the Anglican Church in the UK.
Here, you can listen in full to her masterpiece of evasion, so deft it could only be supernaturally inspired, and below is an excerpt of her most notable wriggling:
MH: How would you vote when Synod debates blessings for same sex relationships?

SM: Well, at that point I won't be in Synod, so I won't have a vote. But what we have to remember is…

MH: How would you vote?

SM: What we have to remember is that this is about people, and, um, the church seeks to demonstrate love to all, because it reflects the God of love, who loves everybody, and obviously this issue isn't just an issue for London, not just for us in the Church of England, but also the Anglican Community, um and at the moment the church is taking a period to reflect, there is work that is going on, er, and I'm involved in that, and, er, for me that is important that we take a time of reflection, whilst, you know, standing on the traditions of the Church of England…

MH: Would you bless a same sex marriage?

SM: At the moment there is no provision to do that

MH: Would you like there to be that provision?

SM: As I said there is a period of reflection that is going on at the moment, and I am part of that…

MH: Have you not decided how you feel about blessing a same sex marriage?

SM: I think that, what we have to recognize is a real diversity within the Church of England, and if we are going to take seriously the wish of the two Archbishops to take a period of reflection, then we need to allow that process to go ahead, and I have been very encouraged by those who wish to work with us on that. And at the same time we do have to recognize that this is a challenge for all people, and we do this as we have always done it in the past, we manage difference…

MH: [Interrupts] I recognize that this is difficult…a sensitive issue…[continues, then mentions] St Helen's Bishopsgate where the vicar has said he is looking to the new Bishop to condemn homosexual relationships as sinful, otherwise there will be some kind of break. [Deep breath]. Do you think homosexual relationships are sinful?

SM: Er, well, the comment came across in the press, and one the things I'm doing is meeting those people that reflect the whole diversity across the Church of England. And in a sense it's not avoiding the subject but it's recognizing that there is a difference, that the Church of England, um, is taking a period of reflection, and recognizing that it does involve people, so there is a sense in which you have to compassionately, um, deal with these issues, and, er, I am forever encouraged that the church across London is undertaking a whole series of things in communities, to be, er, welcoming to that diversity. And one of the wonderful things yesterday was being out in Hackney, and seeing, er, a church that is welcoming people…

Interviewer interrupts and asks about the possibility of a female Archbishop in her lifetime.

SM replies about focusing on the job in hand.

Interview ends. Programme moves to the weather forecast.