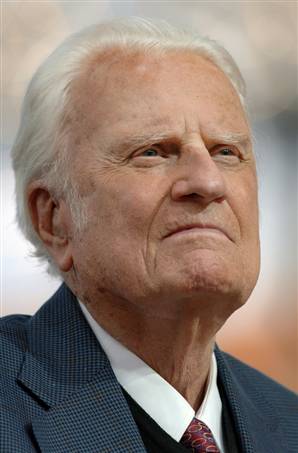 In an age when Christianity and Christians are a preferred object of ridicule, it is almost unprecedented for the secular press to have nothing but good things to say about an evangelical Christian. That seems to be the case for Billy Graham, though, who died yesterday.
Criticism, as is so often the case, has come instead from an Anglican in the form of Michael Coren, an – in chronological order –  ex-Roman Catholic/ex-Evangelical/ex-Roman Catholic who has come to view the cosmos through pink tinted Anglican lenses. His main complaints about Billy Graham are that he regarded homosexual activity as sinful, his theology was not nebulous and flaccid, he held to 2000 years of tradition, he tempered experience with the Bible and was what Coren used to be: conservative.
In other words, he was too Christian.
From here:
Billy Graham brought countless people to a deep Christian faith, and to better lives; and unlike so many other high-profile evangelists, he was not financially corrupt or vainglorious. But his theology was rigid and conservative, and he was unable or unwilling to allow experience to temper his fierce resistance to the new and non-traditional. On issues of sexuality in particular, there are too many broken relationships, too much pain and suffering, too many suicide attempts, and children thrown out of parental Christian homes, for the complete man not to be exposed. He had so much influence, and knew so many world leaders, and could have done so much better. Rest in Peace sir, but let us pray that in the afterlife you think again.