One year old baby Joseph Maraachli is going to die; his parents want him to die at home. In order for that to happen, Joseph needs a tracheotomy to allow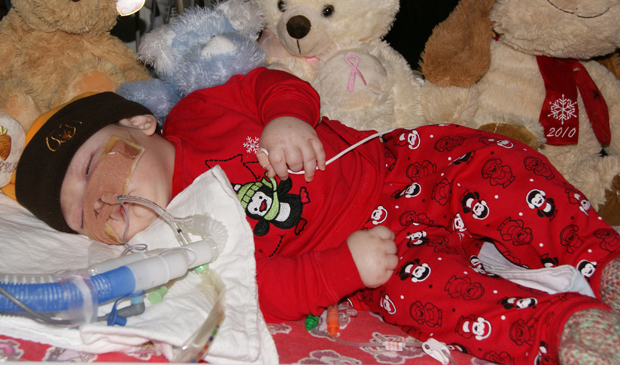 him to breath. The hospital refused and will remove his breathing tube Monday, which will cause him to choke to death. The hospital's reason  for not doing the tracheotomy – which the courts upheld? It could cause infection or pneumonia.
R.I.P. Canadian health care, judicial sanity and baby Joseph.
From here:
With all of their legal avenues exhausted, the family will have to say goodbye to Joseph Monday morning — on Family Day — when his breathing tube will be removed.

"I do my best for my baby. My son is not a criminal . . . to just let him die," dad Moe Maraachli said through tears.

"They are taking my baby away from me . . . Where is the humanity?"

He said he didn't know how to break the news to his wife Sana Nader, who was too upset to sit through the day's court proceedings, or explain to their seven-year-old son Ali what's going to happen to his little brother.

Maraachli and Nader fought to bring Joseph home to Windsor so he could spend his last days surrounded by loved ones. Joseph suffers from a severe and deteriorating neurological condition that has left him in a persistent vegetative state, according to specialists in London, Ont., who've examined him. He's been at the Victoria Hospital, part of London Health Sciences Centre, since October.

Nine years ago, Maraachli and Nader lost a daughter who suffered from health complications nearly identical to Joseph's.

Although the couple has accepted their baby boy's inevitable death, they insisted that it occur peacefully at home and not by removing his breathing tube, which will cause him to choke since he can't swallow or breathe on his own. The parents asked for a tracheotomy, which would open up a direct airway through an incision in Joseph's trachea and make it possible to bring the baby home.

But doctors refused to perform the procedure, citing serious risks of infection, pneumonia and other possible complications.