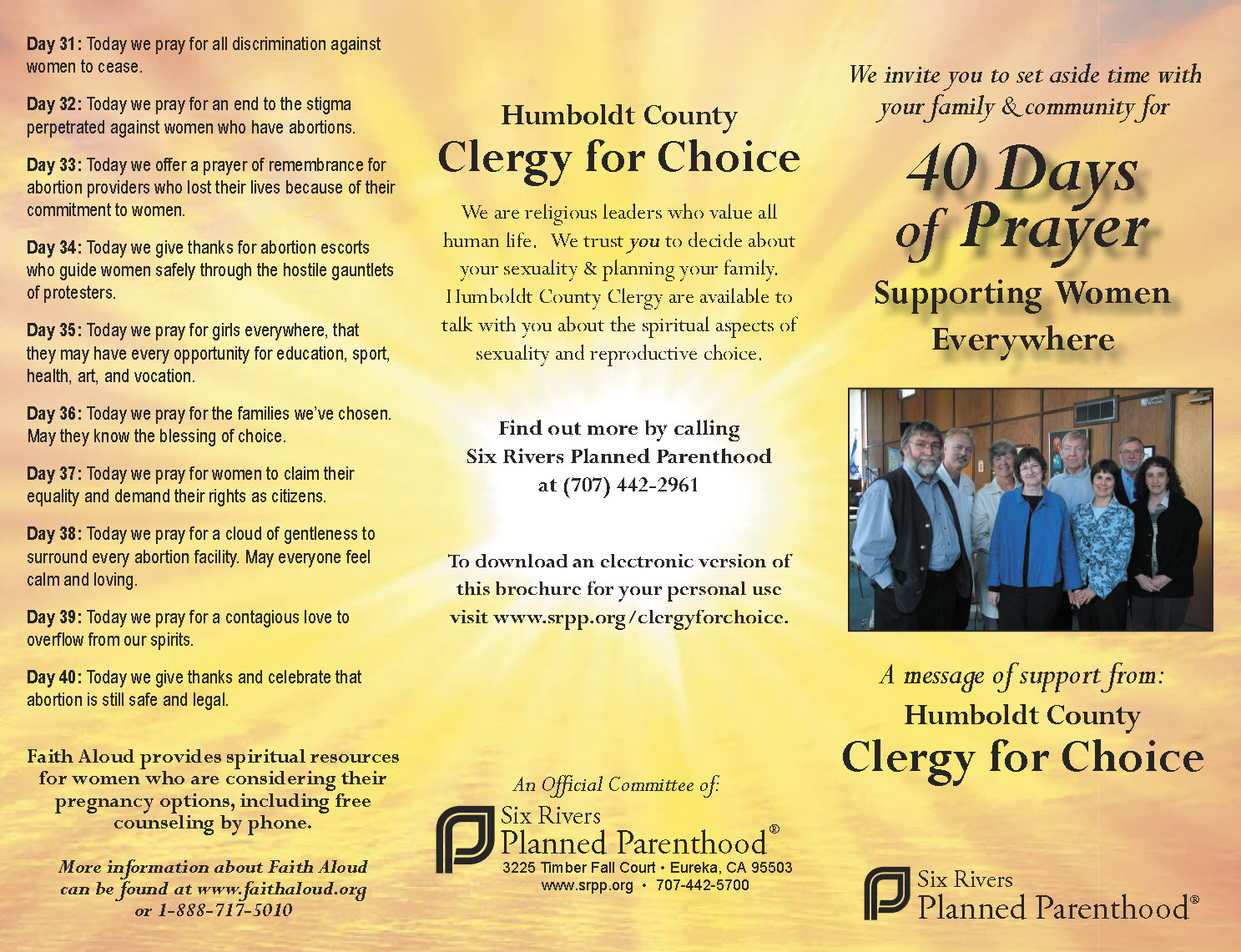 From here:
40 DAYS of PRAYER and CONTEMPLATON

Humboldt County Clergy for Choice invite you to set aside time with your family and community to support women and reproductive justice for 40 days from March 18th through April 27th.
The flyer has a prayer for each day. Here are some of my favourites:
Day 1: Today we pray for women for whom pregnancy is not good news, that they know they have choices. [like killing your unborn baby]

Day 3: Today we pray for our daughters and granddaughters, that they will always know the power of making their own good decisions. [and be grateful that they were not aborted by their parents].

Day 4: Today we give thanks for the doctors who provide quality abortion care, and pray that they may be kept safe. [so they can kill more babies.]

Day 14: Today we pray for Christians everywhere to embrace the loving model of Jesus in the way he refused to shame women. [after all, when he wasn't busy healing people, Jesus aborted babies as a side-line. I've forgotten which Gospel that is in] .

Day 18: Today we pray for all the staff at abortion clinics around the nation. May they be daily confirmed in the sacred care that they offer women. [how to show you care: abort someone – sacredly].

Day 29: Today we pray that all women will know that they are created in the image of God, good and holy, moral and wise. [unlike unborn babies who were not created by God and are a just meaningless clump of cells].

Day 36: Today we pray for the families we've chosen. May they know the blessing of choice. [We mustn't forget that abortion is a blessing]
To whom are these clergy praying? Moloch.